For as far back as I can remember, New Year's Day has been full of southern traditions. My family took it seriously that your actions on New Year's Day set the tone for the whole year. We are extra nice to everyone, exercise (even a very short one), make sure the house is clean, etc. (you get where I am going with the list and pick what you want to work on).
Our key southern tradition is eating dinner with family and friends that includes collard greens and black eyed peas. Black eyed peas represent good health and collard greens represent financial success. Different areas of the south vary the way the two are prepared. This is what my dinner looks like:
Table Setting
I love preparing the table for this event. The goal is to use items that were lovingly handed down to us from generations past. It gives the feeling that they are still part of the tradition. My son and I set the table together and discuss the original owner of each plate, utensil, linen napkin, etc and discuss what we think was going on when they were last used by that person. We serve dinner family style.
Dinner Menu
Traditionally pork chops are served for the protein but you can use chicken or beef. For non-meat eaters, you can substitute fish. The recipe for the pork chops comes from my mother. For the sides, I serve black-eyed peas, collard greens (my recipe is thanks to @cliothetimid), baked sweet potato crisps and cornbread.
Collard Greens Recipe: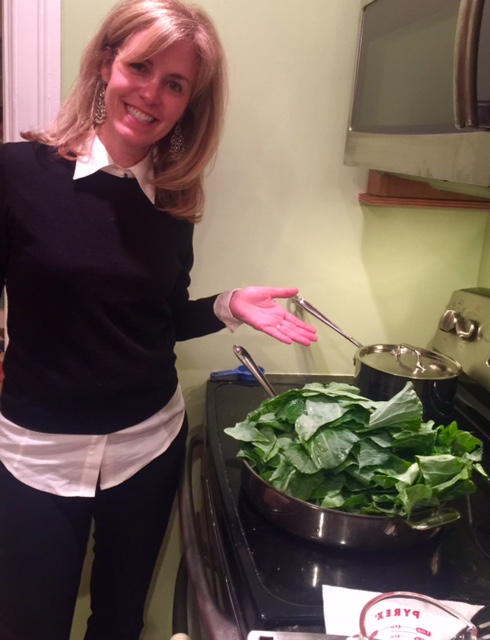 2 pounds collard greens
4 strips thick-sliced bacon
1 small onion
2 garlic cloves
1 teaspoon salt
2 tablespoons sugar
½ teaspoon ground pepper
several dashes of hot sauce
¼ cup cider vinegar
1 cup chicken broth or water
Strip stems from the leaves of the collards & tear leaves into 3-inch squares. Wash torn greens in cold water. Discard stems. Heat the bacon in large pot over medium heat and cook until almost crisp. Next add onion and cook for another 3-4 minutes. Add garlic, salt, sugar, pepper, hot sauce and cook additional 2 minutes. Add the vinegar, bring to simmer and cook until reduced by half, 4-5 minutes. Finally, add all the washed greens (they will cook down) and the broth or water and bring to boil. Reduce heat to low and simmer, partially covered, for 30-35 minutes, until greens are very tender. If pot appears to be drying out, add more water, as necessary, to prevent the greens from sticking.
What To Drink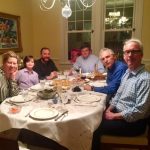 In the south this dinner would certainly be served with sweetened iced tea. But we also serve it with a good champagne (to toast the new year) and a pinot or cabernet wine. This is one of those times I think less about the pairing and more about drinking something special. Again with the thought that you are setting the tone for the year ahead.
The only thing left is to invite friends and family to carry on the tradition.
Avery Note: This tradition runs so deeply in my veins, I have been known to bring a can of black-eyed peas, a can of collard greens and a can opener while traveling on January 1.