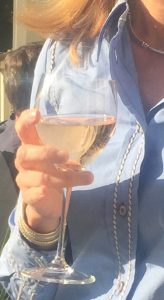 Sipping rosé makes me happy because I know this means the weather is still hot and everyone is having barbecues or heading out to the Hampton's for the last beach weekends of the season.  This wine is a beautiful pink celebration of summer.  It is crisp, refreshing, and a great pairing for any warm weather food.   Rosé pops up on restaurant menus and parties around March and lingers well into the sweltering months of summer.  Here is what you need to know when adding this to your summer festivities.
What to look for in a rosé:
Choose a dry, salmon colored wine with strawberry, raspberry and citrus notes.  When in doubt, go for a bottle from the Cote de Provence region of France.  This region is the birthplace of rosé and you cannot go wrong.
What rosé to bring:
Here are a few rosé suggestions for your events and their descriptions (because "good" is not always enough).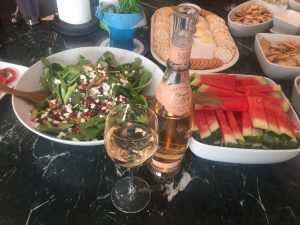 The Barbecue: Domaines Ott Les Domaniers Cotes de Provence
Description:  This grenache-based rosé has red fruit, expanding herbal scents.
Lunch in the Hampton's:  Domaine des Mapliers
Description:  Light red fruits with mild floral elements.  The vineyard describes this wine as "Summer in Provence in a glass."  I love that image.
Dessert Party or Celebration:   Billicart-Salmon Brut Rosé Champagne  (Amazing…and one of my favorite champagnes.)
Description: A mellow, nutty and straw-like bouquet with delicate fruit on the palate…and fine bubbles. Or…yummy!
Sitting around with girlfriends:  Domaines Ott Chateau de Selle Cotes de Provence Rosé (My favorite rosé wine.)
Description:  The powerful, elegant nose combines white fruits and wild strawberry, alongside citrus zest with light cardamom notes.  Or…delicious!
How to experiment for yourself:
A good way to further explore rosés for yourself is go to a restaurant/bar with an extensive list of wines by the glass that add extra rosés for the summer season.
In New York, NY try:  Morrell Wine Bar (1 Rockefeller Plaza)
In London, England try:  Bar Boulud (66 Knightsbridge)
In Washington DC try:  Ripple (3417 Connecticut Ave)