During those rainy, chilly spring evenings, I like to curl up on the couch, drink a glass of red wine and eat comfort food (like chili or beef stew).  Having already invited friends for dinner tonight, the couch is out.  But, I can still serve comfort food and drink great red wine.  Here are four delicious reds to drink before the season changes.
Four Red Wine Parings Perfect For Comfort Food Or On Their Own…
1) Domane Vieux Telegraphe's Chateauneuf du Pape from Rhone Valley France is tonight's special choice.  It is versatile and will go well with our dinner of brisket, spinach salad, roasted potatoes and sour cream pound cake (thanks Katie for the cake idea and mom for the recipe).  Dinner will conclude with a 5 mile (or should).
Description: Juicy and fruit-driven with a balanced mineral finish…intense raspberry and cherry aromas with hints of lavender, spice-cake.
Pair with: beef, duck, pork, lamb, roast chicken, sausage, fish stews, mushrooms pasta, roasted veggies, tomato sauces.  I have also been known to drink it with fondue.
2) Campo Viejo Rioja Reserva  from Spain is tasty and is my value choice.  Like the food, architecture and people of Spain, riojas are great!
Description: Ruby red with a balance of cherries, black plums, ripe blackberry with pepper, vanilla and coconut.
Pair with: chili, red meat, roasted meat, game, cheeses.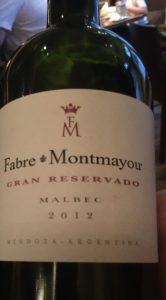 3) Fabre Montmayou Reservado Malbec  from Mendoza Argentina is my other value choice.  The Malbec grape originated in France, where it still is grown under the name Cot.  However, Argentina's Mendoza region is where this grape thrives and we benefit from the delicious result.
Description: raspberries, flowers, licorice, and mineral with hints of lemons.
Pair with: beef, duck, risotto, casseroles, or with a red sauce.
4) Collemattoni Rosso di Montalcino   is a Brunello wine from sangiovese grapes grown in Tuscany.  As the NY Times said, about Brunello tasting, "more drinking less talking".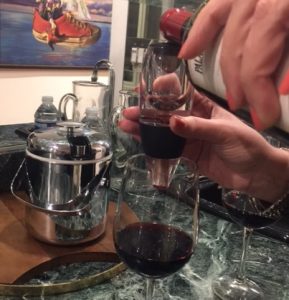 Description:Red and black fruits, spices, wood, crushed violets and smoke.
Pair with: beef, duck, roasted veggies, pasta, soups, risotto, mushroom dishes.
AveryMadison Tip: Red wines generally taste better when you let them "breathe" before you drink them.   In an emergency,  just open and drink immediately.