There are many fabulous hotels in Manhattan, but the Parker Meridian is the place to stay for a girl's quick trip to NYC.  Why?  The Parker has a great location (a couple blocks from Fifth/Madison Avenue and Central Park).  They have fantastic and friendly service, a full gym (Gravity), an indoor pool, a sun deck and nicely appointed rooms.   The Parker has taken those attributes and added in a girl's "WOW" factor.   There is now a beauty bar (Blushington's), a nail bar (Tenoverten 10/10), a blow-out bar (Dry Bar) and a laser treatment bar (Sky Laundry), all on the same floor.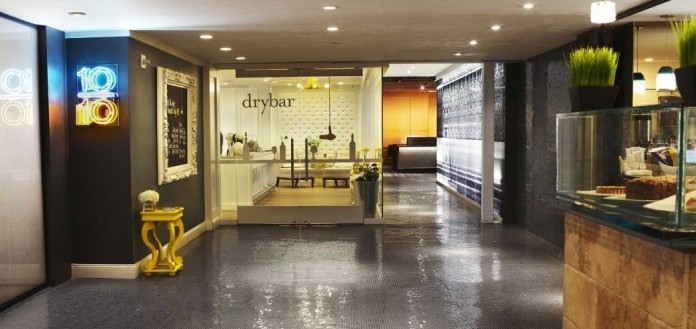 The Perfect Way For A Girl To Start A Day Or Evening In NYC
1) Workout at Gravity.  I suggest Dorothy's spin or Pilates class.  Dorothy is always watching your form so that you do the move correctly and therefore you get the most out of the move.  I walk away with a readjusted form and new moves.   They also have other great instructors. Starting out this way, helps you feel good about any gluttonous behavior later. You can follow-up with a shower and then a massage at Moonshine.
2) Grab a handmade smoothie or juice (or even a wheat grass shot) from Petite Blue Dog Cafe.
3) Get a blow-out at Dry Bar.  I have tried several of the hairdressers at Dry Bar and they are all good. I like to try a style that I cannot do myself.  I first tried Dry Bar after I rode down in the elevator with a woman who had somewhat crazy hair and then later road back up with her after my work-out and her hair looked great. She said she was a local who used Dry Bar on a regular basis and was always happy.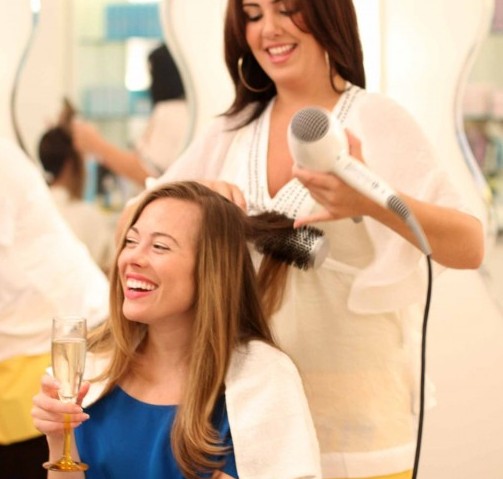 3) Visit Blushington to make your face look great.  I do a decent job with make-up, so I was skeptical about my need for Blushington.  But, I watched people coming out of this beauty bar for days before I ventured inside.  Everyone who came out looked great. One of the women I saw coming out said she was a local who went in every Friday morning and has her make up applied, including lashes.  They have a look book with many choices, from natural to lash additions, to the "TV ready" look. I decided for my first venture, I would just go with doing my eyes.  It seemed to be the least risky and only costs $25.  If I hated it, I could rub it off and try something new. I walked in wearing my eye cream, face cream and foundation. I chose the daytime light touch look from the "look book."  Like with Blow Bar, you get the person available when you book. I got Anna. I showed her what I wanted and then asked for further adjustments when she finished (which they are happy to accommodate…I wanted my eyes more subtle). I really loved it. Not only did I look more polished, but she managed to hide the bags under my eyes. I am now addicted.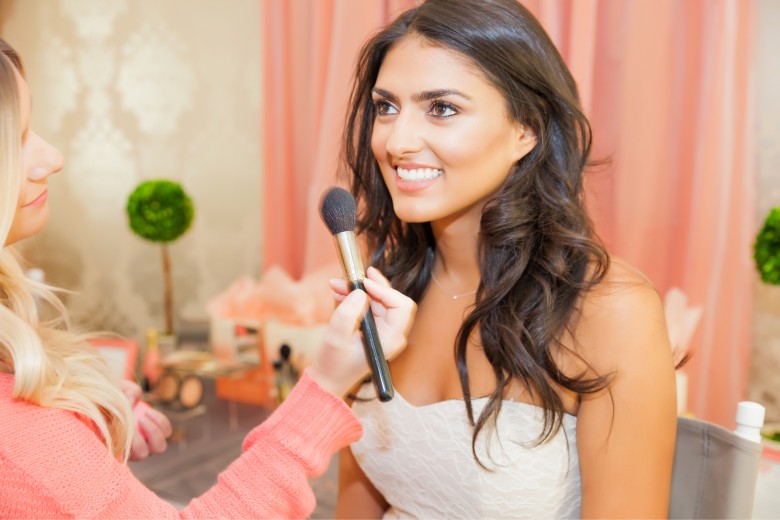 Avery's Tip for Blushington:  If you are not used to wearing make-up, make sure your tell them and ask them to make it subtle or try the "fresh" look.  But never worry about telling them to tone down the makeup even when they are finished.  You should be happy and they want you to be happy.
4) Polish the look by finishing up at Tenoverten (10/10) Nails where you can have your nails and toes done.
Now, I am ready for anything in NYC.   I think I will stroll out of the Parker Meridian and meet my friends a couple blocks away for lunch and shopping at Bergdorf and then continue up Madison Avenue.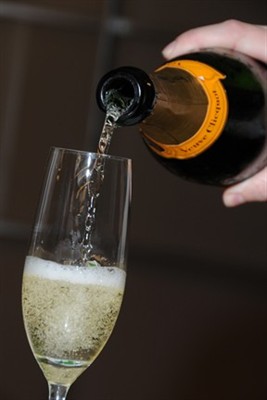 Avery's Tip:  When you come back in the evening to the Parker Meridian, Knave is a great place to have a glass of Veuve-Clicquot as they really know how to pour a glass of champagne and the setting is intimate and inviting.  
Avery's Tip:  Also, the Burger Joint in the lobby is famous and the line is often very long.  If you are staying in the hotel you can call down from your room and then cut the line to pick up your order.