The key to holiday party style this season is a little sparkle, shine and glow.  This means sparkly bold, eye-catching  jewelry, clutches and shoes.   The glow will come from your inner excitement about the season, helped by a bronzer and shiny hair from that great blow out.  The season's trend for "the dress" is lace overlays, sheer or ruffled sleeves and shoulder peep holes.  I like a black dress since it is the perfect backdrop for all things that glitter (make it velvet or satin for a more dramatic effect).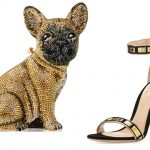 Office Party Dressing Etiquette
Remember, the office holiday party is an opportunity for you to get to know your boss and company executives in a more relaxed setting.  This also means it is chance for you to make a great impression.  You will be judged by the way you dress, who you bring and how you carry yourself (this may not be the time for tequila shots).
5 Simple rules to nail it:
Date or no date? I lean towards not bringing one, unless they are key (because of their background or job) to making a good impression or you are married and then it is still optional.  This way you do not have to worry about how they act or dress.
Dress for the job you want not the one you have (Do not wear a "going clubbing" dress).
Dress for the body you have and not the one you want…(always good to keep in mind).
The hem-line for "the dress," should generally be no shorter than about 2 & 1/2 -3 inches above the knee.  The exception is if you are wearing opaque hose, then you can go a little shorter.
For the dress sleeves, a good rule is, the shorter the dress, the longer the sleeves