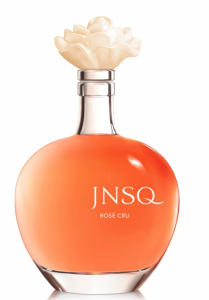 Sisters Kate and Laura Mulleavy, founders of luxury fashion house Rodarte, presented their Fall/Winter 2019 collection, last week, in Los Angeles. While causing a void in the NYFW schedule, moving to the sister's home state of California, created the perfect opportunity for fashion, art and wine to intersect. In keeping with the sisters love and use of various aspects of California in their collections, the Rodarte FW19 line was presented in conjunction with the release of the beautiful JNSQ Rosé Cru wine.
The Rodarte FW19 creations are a mixture of fantasy, elegance, and girly-girl wrapped in a layer of tough girl. Bows and ruffles accented everything from tops, dresses, tights and belts. In some cases, bows are merely a hint of a triangle shape in others it is a large accessory. Ruffles adorned most looks either as a subtle wave on a strap or layer upon layer of confection. The collection included an 80's flair with puffy shoulders, sparkly lame and high waisted pants. Black leather added edge and depth.
The most fantastical looks reminds me of earlier centuries. The women of that era were strong but had to reflect that strength in layers of sugar and ruffles. Oh wait – for many this had not changed. The Rodarte FW19 collection reflects empowerment, glamour, beauty and imagination while recognizing the dark undercurrent running through ourselves and society. For my choice, I picture a late summer lunch meeting at the country club. I walk in like a boss, wearing the white ensemble complete with hat. What does your clothing armor look like?