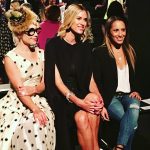 Sitting on the edge of the runway, waiting for the first model to walk out showing John Paul Ataker's SS18 collection, I realized my excitement was shared by everyone around me. Celebs such as Paula Abdul, Kristen Taekman, Elizabeth Lyons, and Victoria Justice were among some of the Ataker devotees perched on the black benches waiting for the show to start.
Ataker's SS18 was inspired by the culture of Turkey's Black Sea region. This region is known for hardworking farmers and fishermen, who are living and working by the beautiful seacoasts, picturesque valleys and craggy mountains as a backdrop.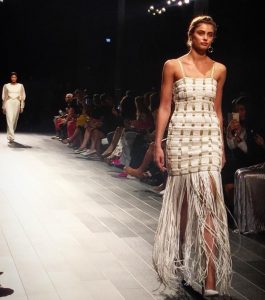 The first model on the runway wore a cotton twill jacket adorned with gold cord, displaying the inspiration of the region and its traditional garments. These included: bolero jackets, baggy pants and waistcoats. Finishing touches reflected the regions' fishermen trade craft of braids and ropes, by Ataker as accents, belts as well as quilted together as a top.
The color palate was natural and clean, dominated by white, black or navy. The designer's creative merging of fabrics such as linen, cotton, organza, jacquard were artfully constructed to make a woman feel feminine, powerful. Indeed, each piece on the runway gave the impression of timeless regal and beauty.
Finally, Karlie Kloss glided out wearing Ataker's pinnacle piece, a spectacular organza ruffled dress with a hand woven gold metallic band vest with a laser cut train.