Spring is the perfect time to heal the hair!  My hair issues were:  roots showing too quickly,  attack of the frizz and some hair thinning.  To get help with these, I  visited hair stylist guru Rachel Lyon (Warren Tracomi) and master colorist Krista Depeyrot (Salon Bisoux).  Both had tips that have worked for me, so I share them with you.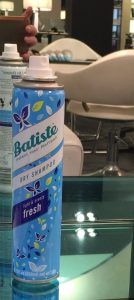 How To Get Smooth Hair
My hair is naturally frizzy (not curly) if left to its own devices and it takes forever to blow it smooth.  Rachel suggested I use hot rollers after blow drying my hair to add extra smoothness and movement.  To extend the time between blow drys (and to smooth) she recommended trying a dry shampoo.  Rachel used Batiste and suggested choosing the Batiste shade that matches your hair.  This can also extend your color…
AveryMadison Tip:  Do not leave the rollers in very long to get it smooth.  If you want it curlier, leave the rollers in longer and add a light hold hair spray before removing them.
How To Get More Hair Rather Than Less
I like to pretend this never happens but, when I get stressed or forget to take vitamins, I start shedding hair (ugh!).   To fix this situation, Rachel suggested 4 things.
Take a daily vitamin for hair (including Vitamin-D and Biotin…my friend MaryBeth swears by prenatal vitamins).
Massage the scalp in the thinning area.
Use Kerastase INITIALISTE in the thinning area.  This is a scalp treatment that strengthens the tiny hairs so they can grow thicker.
Practice relaxing/meditate (hardest suggestion to do).
How To Cover Roots Between Salon Visits
Even if your roots are just peaking out, you can see it and so does everyone else.  I was puffing up my hair to hide my roots, but who was I fooling?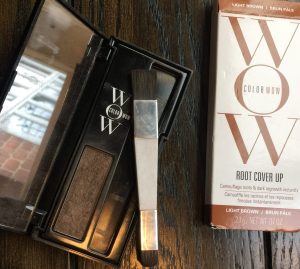 Krista saw my 1 inch roots and suggested WoW Root Cover Up.  Having tried a spray root cover up that did not work, I was skeptical.  But, it worked!  It is not messy and can be applied quickly.  And, I can go longer between salon visits, saving money and time!
AveryMadison Tip:  When buying WOW, try the sample colors before buying since the one that worked best for me seemed much darker than my hair.