Like everyone else, my weekend is packed. I needed a lightweight, elegant tote that is versatile enough to use while running errands, going to the gym, and then to lunch (if I do not have time to grab my Chanel boy bag).  I needed to be able to pack the tote to the brim, spill my Starbucks on the tote (and be able to wipe it off) and have it still look chic.  After much investigative shopping, I found that the Goyard tote fills all of those requirements and more.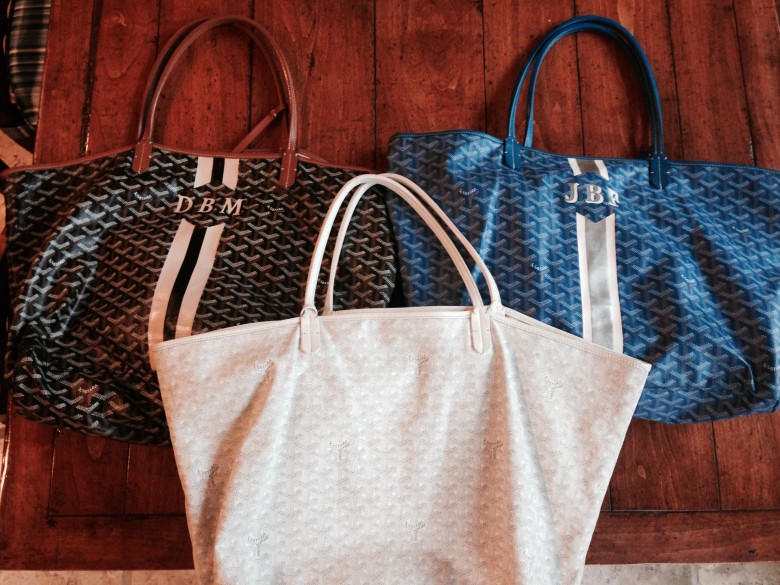 Timeless Design in Multiple Colors
I love the craftsmanship of the Goyard tote and the fact that it will not go out of style the minute I purchase it. The raised pattern on the tote is created through a "secret" process where three successive layers of etching are added to the base color. The bag comes in red, orange, yellow, green, sky-blue, navy-blue, burgundy, grey and black (and sometimes limited edition colors like pink).  I chose black because it is my go-to color but I expect I will buy it in other colors.
Individualize
Once I chose my color it was time to decide how I was going to individualize the tote. You can choose just about any design as it is hand painted on the bag (because it is hand painted, it takes 6 weeks but it is so worth it!!).  For getting an idea of what basic stripes and initials would look like on the bag, you can go to Goyard's website. Their web tool allows you to pick each paint color they have and see them on the color bag you have chosen. My favorite pattern, so far, I spotted at a resort in Hawaii.  A girl had a small white Goyard tote with three small gold bunnies on the side…so cute! Her mother had the matching large white tote with silver and gold stripes and a monogram.
Avery's Tip: For customizing, I would first look at Goyard's on-line tool which gives you a general idea of patterns and colors and but then look at actual examples (I visited Bergdorf ) to get an idea of what the color(s) look like as the colors in-person look slightly different from the computer version. I also Googled "Goyard Totes" and looked at patterns others have chosen.