We have all ended up with puffy eyes from sleep deprivation, jet lag, too much wine or even allergies. My favorite way to get rid of puffy eyes is to lay in a steam sauna or hot bath with two cucumber slices (sliced thinly) over my eyelids.  I first chill them in a bowl of ice water.  If you do not like the added moisture of the water, you can just put them in the refrigerator.   Then, for extra relaxation and effect, add a chilled Eucalyptus (or lavender) wash cloth over the cucumbers.  Finally, breathe deeply and relax.  I like to do it for 10 minutes but 5 is okay.
Tip from Carrie:  Use a baby wash cloth.  They are thinner and do not drip as much water as much when you put them over your eye.
Tip from St Regis Bahia Beach Spa: Purée ¼ of a seedless cucumber with 3 Tbls of water and fold it into a thick paper napkin or paper towel, making a 2 inch strip. Put in the refrigerator. Once chilled, place over eyes (and any part of the face).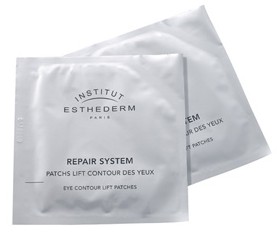 Eye Lift Patches
Unfortunately, I am rarely in a position to relax in a steam sauna or in a hot bath (sad really).  There are a couple of products I like to use to get a similar effect (to the puffy eyes…not the relaxation).  The one I find the most effective is the Repair System Patch Lift Contour Yeux Repair by INSTITUT ESTHEDERM.  These consistently work. I apply the white strips right under my eyes (about 1/16th from the lash line) and wear them for about 20 -25 minutes (until they are dry to the touch).   I try to use this product when I am getting ready for bed because if I apply eyeliner right after I use it, it may run.  I have tried other brands but they have not worked as well for me.
Tip from Carla:  Try putting them in the refrigerator for an even greater effect.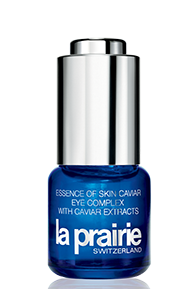 Eye Serum
My go-to eye product that does a bit of everything and can be used under your make up is Le Prairie's Essence of Skin Caviar Eye Complex.  While it is not the serious puff fixer like the cucumbers or eye patches, it does a little of everything and will really make a difference.  Some even call it a mini-eye lift.  I wear it under my eye cream everyday.   Put a big drop on your finger (do not skimp)  and gently rub over top of your eye lid and directly underneath (not putting it in the eye).  Let it dry a few minutes before applying eye cream.  I learned about it and Le Prairie in general from a woman sitting next to me on a fight from Europe to the US years ago.  Her name was Dixie and she had great skin.  She said that Le Prairie caviar skin products were the reason.  A year later I was reading an article interviewing Ralph Lauren and he commented in the article that he really loved the Le Prairie Caviar Eye Serum.  By that time, I had used it long enough that I completely agreed.
Eye Creams
Even if you have a good face cream, you need a separate eye cream.  The skin area around and under the eye is more delicate than the rest of the face and shows your age faster than other areas.  There are many eye creams on the market and depending on your age, different ones are "needed."  If you are over 40 you need something more than a moisture treatment.  You need a restorative treatment.  I have tried many eye creams and find that Amore Pacific TIME RESPONSE Eye Renewal Crème makes the most visible change to my puffiness and fine lines.  It is a restorative treatment that improves the appearance of fine lines, wrinkles, darkness and puffiness through stimulating collagen, and improving hydration levels.  If you are under 30 years old, try Kiel's Creamy Under Eye Treatment with Avocado.  If you are 30 – 40 years old, I like Le Prairie CELLULAR EYE CONTOUR CREAM. 
Tip from Avery:  Always ask for a sample of any cream you are thinking of purchasing.  It allows you to see if it works for you before spending money.