This holiday entertaining season is in full swing and we are preparing menus for cocktail parties and dinners.  To help out, I have been tasting wines for pairing with holiday favorites for the last month(rough task).  For those of us who are too busy for a full blown party, I offer 4 simple tips to help prepare for entertaining the friends and family who will drop by to exchange gifts or to spread holiday cheer.  Enjoy!
White Wine Suggestions:
Pair with cheeses, deviled eggs, poultry, fish, sweet potatoes…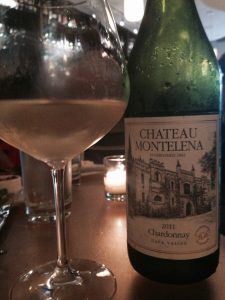 Chateau Montelena Chardonnay is lemon-yellow in color, rich with pear, apple, citrus fruit and a creamy toasted oak and spice.
Ramey Chardonnay is bright yellow in color, with deeply pitched aromas and flavors of poached pear, peach nectar, with floral overtones.
Chateau Saint Martin de la Garrigue Picpoul de Pinet has aromas of citrus and white fruit, floral with a touch of mineral.  This white table wine is my value choice.  For extreme entertaining, the castle at  Saint Martin de la Garrigue vineyard can be rented.
Food Tip: For a twist on traditional deviled eggs, make them black truffled deviled eggs by adding 2 tablespoons of black truffle oil in the deviled egg mixture and add a pinch of black lava salt to the top of each egg.  If you normally add pickles, leave them out.  Great with chardonnay…
Red Wine Suggestions:
Pair with ham biscuits, garlic mashed potatoes, duck, beef….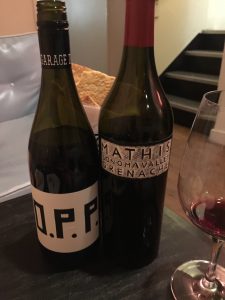 Mouton Noir, O.P.P. (Other People's Pinot) is a classic Oregon Pinot with a nice balance of earth, spice, floral, herb, cherry, ginger and oak with a long finish.
Mathis Grenache Sonoma Valley Peter Mathis the vinyard owner, says "Grenache is a heady, frolicking mix of fruit and spice…about laughter and the celebration of life, of eating and drinking lustily"
Guild Red Wine tastes of blackberries and flowers with powerful notes of cherries and blackberries.  It is crafted by a collective of Portland's talented winemakers with fruit from Washington State.
PS…Thanks for the red suggestions Kristen…delicious.
Food Tip:  Tânia's Olive Oil and Rosemary "Biscuits" make a great addition to the appetizer line up!  I like to make the biscuits slightly smaller (than the picture).  Looks lovely served in a a red linen lined basket.  
4 Easy Tips For Entertaining Drop-in Guests Or Having A Small Last Minute Gathering
FOOD

:  Stock olives, red grapes (or berries), water table crackers and a couple varieties of cheese.  I like hard cheeses (like Manchego or Robusto) because you have the flexibility to eat them without crackers (incase you are out of crackers or a guest does not eat gluten).
DECORATIVE DISPLAY: Display food on attractive plates/bowls (everything tastes better this way).
FINAL TOUCHES:  Use festive cocktail napkins (Caspari and Crane make beautiful designs).  For plates, use small festive plates (they do not have to match exactly but can be a complimenting color).  Alternatively, take out the salad/dessert plates from your china set.
You can always do more and keep more food/drinks on hand.  These are just the essentials that will make you look like a put-together, thoughtful, entertainer even on your busiest day.