Watching the 1954 version of Sabrina with Audrey Hepburn and Humphrey Bogart on my flight to Paris, inspired my purchase of these great black flats (Check out the scene where Audrey is with Bogart in his office wearing an all black outfit of cigarette pants, sweater, and the perfect pointed-toe black flats).  But, between watching Audrey Hepburn and visiting the Chanel store on 31 Rue Cambon in Paris, France, who would not be inspired.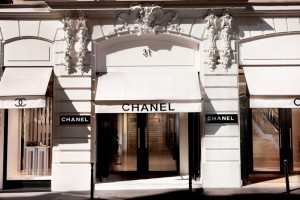 31 Rue Cambon a Fashion Landmark
31 Rue Cambon, acquired by Gabrielle "Coco" Chanel in 1918, is an important landmark for any fashion conscious girl (or guy) to visit.  It is here, in 1921, that Coco Chanel invented the concept of the modern boutique when, she began displaying fashion accessories and her first perfume (N°5) to wear with her garments and hats.  Later, she added jewelry and beauty products. The third floor housed her studio.  Today, the ground floor still displays Chanel's fashion products and the third floor is where Karl Lagerfeld,  head designer and creative director works.