Washington Post's, Robin Givhan, hosted witty and charismatic fashion designer, and Maryland native, Christian Siriano in an entertaining dialogue on technology, diversity, editors and rumors.
Christian Siriano, traces his fashion inspiration back to spending time with his mother who loved textiles and interior decorating along with his ballerina sister at the theater. He studied in London, England followed by internships under Vivienne Westwood and Alexander McQueen.  Siriano moved on to Project Runway where as the winner he received a spread in Elle magazine and a showing at New York Fashion Week.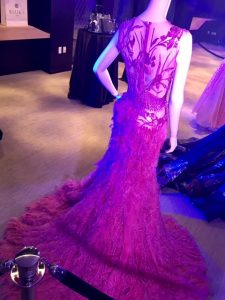 Technology and Editors: When Robin Givhan asked Siriano why he started in the UK versus the US, he said that UK fashion is "fantastical" instead of technical. He is the first to admit he is not technically inclined and prefers to start every gown with a pencil and paper sketch, followed by draping fabric on a mannequin. Christian Siriano launched his label in 2008 with the goal to make a woman look good in clothes and therefore feel good. Givhan congratulated him on his first British Vogue cover. Siriano responded with how pleased he was but how he did not sell one of the dresses on the cover, suggesting there is sometimes disconnect between the looks fashion editors love to see in a magazine versus what his customers actually buy.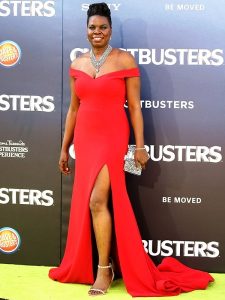 On Social Media and Diversity: On the topic of social media he said, it is great to sell a $17,000 dress on Instagram but he tries to not let "instant" comments direct his design too closely. Siriano is proud of the diversity of his line and clients. His top selling size is a 12 (his clothes go from size 0 up to 26). Christian Siriano said that the harder challenge is to get retailers to carry this wide of a size range. He confirmed the story of how actress Leslie Jones tweeted that she could not find a dress for her movie debut of Ghostbusters (because of her size). Siriano responded back on social media, "Hello…" He ended up designing her an elegant form fitting red dress to wear to the debut. Leslie Jones has since attended Siriano's show at New York Fashion Week and "cheered like she was at a (NY) Nicks (basketball) game."
Further dishing on the subject of actresses and musicians requesting free clothes, he noted that it was all part of marketing especially when talk about his designs on the red carpet  Siriano only dresses people (for free) whose ideals are not far off of his. "I only have clothes to give and why would I dress someone whose ideas I do not believe in."
Rumors: When asked if he could work for any clothing house, which one would it be, he responded, Christian Dior or Celine…I look forward to reading Christian Siriano's new book, Dresses to Dream About and checking out his new gowns in Rizik's (Washington DC) or his new store in NYC.