Heading out to the beach?  Here are 6 essential beach trip beauty tips to help us look great and avoid beauty disasters.  A few Do's and Don'ts among the tips are emphasized since the beauty disaster was especially memorable for me.
1 – Do NOT highlight your hair right before you go on your beach trip.
Between the sun, ocean breeze and salt water, your hair will start to fry if you highlight it right before leaving (yes…I learned this the hard way).  It becomes thin and brittle and starts breaking off when you brush it (fun…).  If you are coloring your hair do it 4 (or more) days before leaving and remember the sun will provide its own highlights.  Even if you are not chemically treating your hair, apply a dry oil or hair sunscreen such as Fekkai Pr-Soleil Hair Radiance and Protection Mist before going on the beach (Thanks for the tip Amy).  It will keep your hair looking glossy.
2 – Pick a fab color for your mani/pedi but get it before you leave for the beach.
Getting the mani/pedi before you go will allow the polish to dry more effectively. The humidity and salt air at the beach can cause the polish to dry slower and make it easier for you to ding it (frustrating) if you wait until you are at the beach.  The new Smith & Cult line is great because the colors rock and is made without Formaldehyde, Formaldehyde Resin and 6 other unpronounceable ingredients found in most nail polishes.
Avery Tip: Don't forget to swipe the very tip of the nail with polish and add a drop or two of cuticle oil to keep your nails flexible to resist chips.  
3 – Get your spray tan a day or two before you leave.
Get your spray tan a day or two before you leave to allow it to "set" better.  If you do not want to go for the spray tan, you can apply temporary color. I use a tinted moisturizer for my face and a self-tanner for my body.  St Tropez Bronzing Mousse and TanTowels are both great self-tanners.  They give a temporary tan/glow (1 to 2 days) and unlike a cream, do not streak as easily.  Tantowels minimize mess and are easy to carry around in your bag.   For my face, I am using Laura Mercier Tinted Moisturizer with SPF.  It comes in 14 shades for flexibility.
Avery Tip: To help avoid streaks and get your skin as silky as possible, give yourself a good all-over body polish and apply plenty of moisturizer the night before.
4 – Wax or shave 24 hours before you tan.
If you're waxing or shaving, make sure you do it 24 hours before your tan.  Waxing/shaving can remove the top layer of skin.  This leaves your skin more vulnerable to sun burn and irritation and if you are getting a spray tan or self tan, it can cause the tan to be patchy.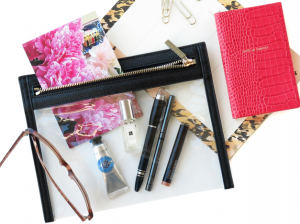 5 – Bring a few different sized OneTruffle clarity pouches or ziplock bags.
Bringing ziplock bags allows you to put your iPhone, wallet, keys, lipstick and other important items into your tote without worrying about getting sand, sunscreen or water into or on them.  If you want something that is both reusable and fashionable, try using one of the many OneTruffle Clarity Pouches (Thanks for the tip Jean).
6 – If you are traveling by air to your beach weekend, buy your favorite sunscreen in a carry-on size.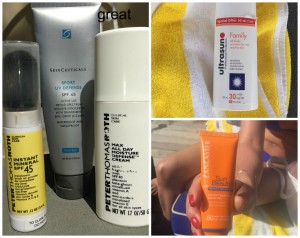 I want to enjoy my vacation from the moment the plane lands.  Bringing a travel size sunscreen in my carry-on gives me the flexibility of hitting the beach first and buying sunscreen later.  I carry Instant Mineral SPF 45 by Peter Thomas Ross in my bag because it is not effected by the TSA liquid limit and the small tube of Lancaster Sun Beauty Comfort Touch Cream SPF50.
Avery Tip: Try to only bring carry-on luggage for your trip.  Nothing is more frustrating than carefully packing the perfect outfits for your vacation and not being able to enjoy them because your luggage did not arrive with you.  If you are going away for a long time and must check bags, prepare an extra bag (carry-on) with 2 days worth of cute outfits and essentials.
Have a great trip!!